CLOSING RECEPTION CANCELLED.
Our closing reception is cancelled because Artist Rodrique Jean is unable to make it to this event. You are welcome to attend the Queer Arts Festival screening on Tues Aug 5 at the Roundhouse. The exhibition at grunt gallery will run until this Saturday.
---
Off-site screening: Aug 5, 2014, 7:30 PM, Roundhouse Performance Centre
Creative Contributors: Tarah Hogue, curator; Rachel Iwaasa, Queer Arts Festival; Dazibao (Montreal, QC).
The installation L'État des lieux (The State of the Moment) and film screening of L'État du monde (The State of the World) is co-presented by grunt gallery, Queer Arts Festival and Dazibao.
Initiated by filmmaker Rodrigue Jean, Épopée is a collection of short films written and made in collaboration with male drug addicts and sex trade workers in Montreal. Set in the district known to residents as "the box," an area bounded by the streets St. Denis, De Lorimier, Viger and Sherbrooke, the project was initiated following the shooting of the film Men for Sale (2008), when participants expressed the desire to create fictional works in addition to the documentary.
The project started with writing workshops that transformed into a website (epopee.me) with short films written and acted out by the participants. Made up of stories – 9 Fictions and 13 Trajets – written and filmed in collaboration with male sex workers, Épopée uses cinema (writing, shooting, editing and screening) as a gesture and an instrument of freedom and community. These films are not portraits, whether real or fictional, of their protagonists; instead they combine to paint a highly emotional and political portrait of our first world, its structure and the segregation on which it is based.
L'État des lieux (The State of the Moment) will be installed as an alternating projection at grunt gallery over the course of July 21-Aug 9, 2014. Attend the closing reception at grunt gallery on August 6. Rodrigue Jean, Épopée Collective founder, and Serge-Olivier Rondeau, member of the Épopée Collective, will be present at this event. Special thank you to Conseil des arts et des lettres du Quebec (CALQ) for providing the artists with a travel grant.
Visit the Queer Arts Festival website to purchase tickets for the off-site screening of L'État du monde (The State of the World) happening at the Roundhouse Community centre on Aug 5.
---
About Épopée:
Épopée is a Montréal-based cinema action group, which carries out projects addressing present-day situations. The group disseminates its work through public talks and discussions, web distribution and art gallery installations. Since 2005, Épopée has focused on persons subjected to exclusion by the State and violence by its police. The group has created film projects in collaboration with sex workers and drug users, students and militants during and after the 2012 Québec Student Strike, and lately with Indigenous groups in the Brazilian Amazon.
The group's works have recently been shown at Dazibao (Québec, CA, 2012), the Festival du nouveau cinéma (Montréal, CA, 2012), the Visions du réel film festival (Nyon, CH, 2013), Interference Archive (New York, US, 2013), and the Manif d'Art 7 (Quebec, CA, 2014). L'État du monde won a special mention in the Best Canadian Feature category at the Rencontres internationales du documentaire (Montréal, CA, 2013). Épopée has also brought its work to universities and collectives in Europe, the US, Canada and Québec.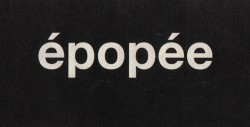 ---
Queer Arts Festival:
The Queer Arts Festival in Vancouver is an annual artist-run showcase of queer arts, culture and history. It celebrates the unique creative expressions of visual and performing artists who identify as part of the queer communities. QAF features a curated visual arts show, a community art show, and 3 dynamic weeks of cutting-edge performances and workshops from all artistic disciplines, including music, dance, theatre, literary and media arts.