Isabelle was very overwhelmed with all the supplies and materials.
I asked her to quickly choose four things that she finds interesting.
She chose all things black, white, red and clear glass.
Then she got to building….
What it is, what it was to become, was irrelevant.
It was solely about colour, pattern, and construction.
And how to install in the gallery.
I introduced her to plinths.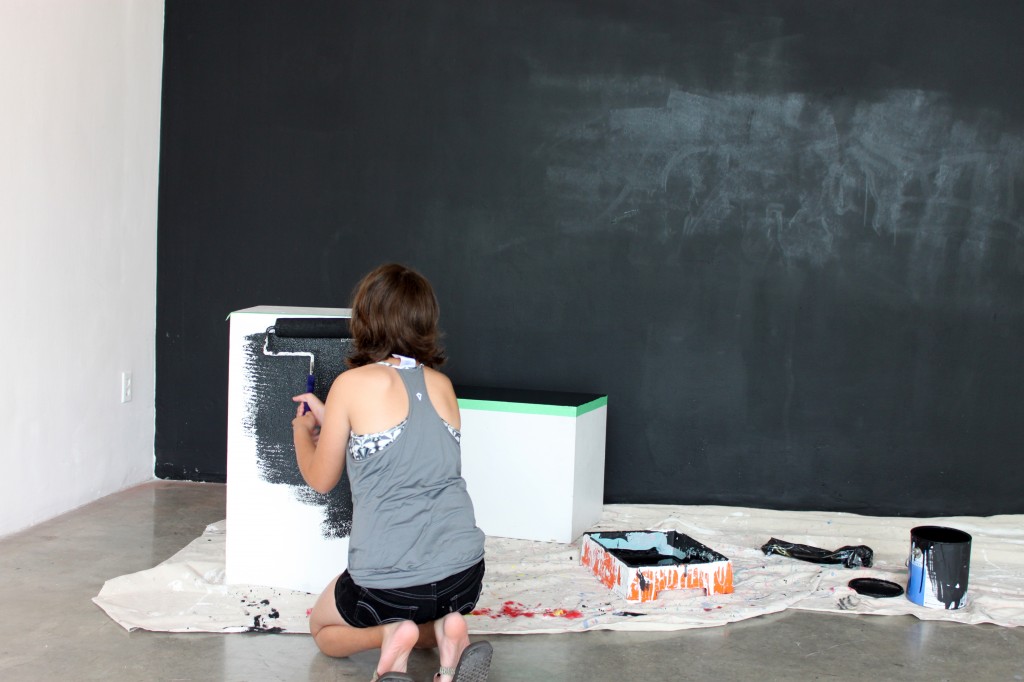 Isabelle is a meticulous worker with a graphic aesthetic sense.
She wanted alternating black and white surfaces on the plinths.
From the industrial jobs of painting plinths and using the staple gun,
to the time consuming precision jobs of arranging small bits and pieces,
Isabelle approached everything with great consideration.
She worked so hard that she consumed an entire dry pint of blueberries.
Isabelle used to go to public school but recently began home schooling.
She has Mitochondrial disease that mainly affects cells in her brain as well as other cellular structures in her body.
---
Play, Fall, Rest, Dance is an exhibition project by Valerie Salez. The artist works with children with disabilities to help them explore the creative process of installation making. The exhibition runs from June 3 to July 5, 2014. The public is welcome to visit grunt gallery to see the installations that will continuously change and evolve over the course of the project.
Read more here.